Dry docking for your boat
Summer Season
March – October
Winter Season
November – February
Hardstanding
Once lifted out of the water your boat will be placed on trestles or sleepers depending on the work being carried out. Trestles are used to enable access underneath the hull and sleepers if hardstanding where no hull access is required.
You can live on your boat during your dry dock and utilities are available including free WiFi (currently a little temperamental), electrical connection, Elsan and we provide you with steel stairs for easy access of your vessel.
The Bridgewater Boats Marina is a private residential site, so please be aware that their facilities are NOT open to P&S Marine customers. Terms & Conditions apply.
P&S Marine Hardstanding offerings:
Narrow beam boats
Wide beam boats
Summer – 1 week only (blacking)
Winter – Upto 2 weeks (blacking)

Winter hardstanding carries a two week booking policy for blacking, meaning you get two weeks hardstanding instead of one, giving plenty of time for paint to dry. Additional maintenance works like a engine replacements are easier to carry out during the winter season, too.
A fob for marina access after hours, is available with a £ 50.00 returnable deposit.
Hardstanding per night (inc VAT)
£ 16.50 Narrow beam Band 1
£ 22.00 Wide beam Band 2 – 4
Free WiFi – fair usage applies
Utilities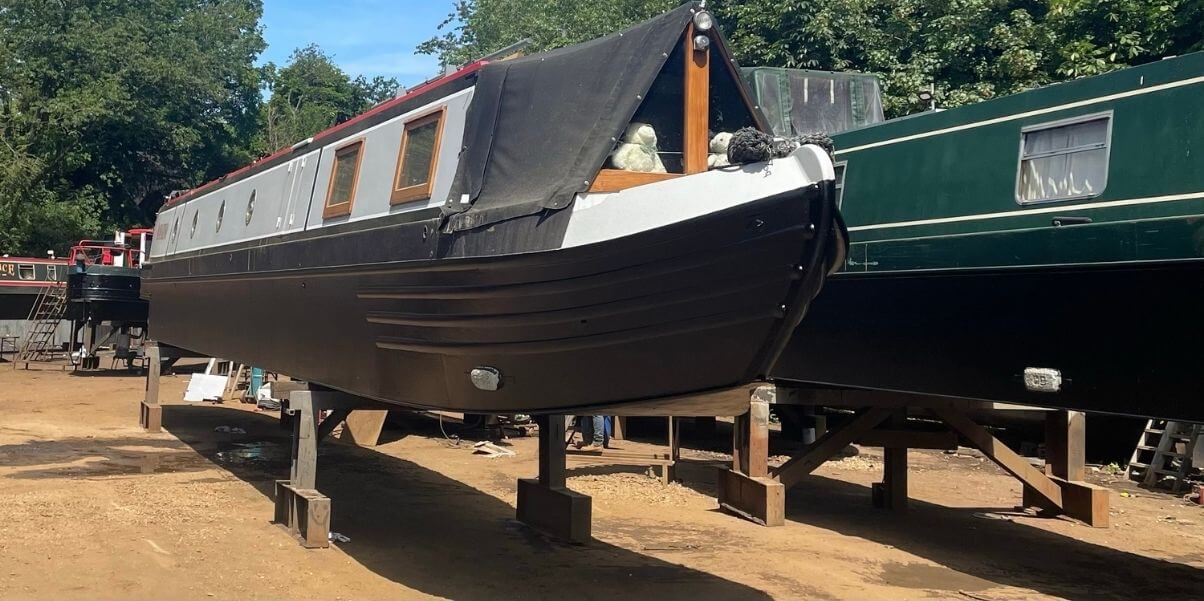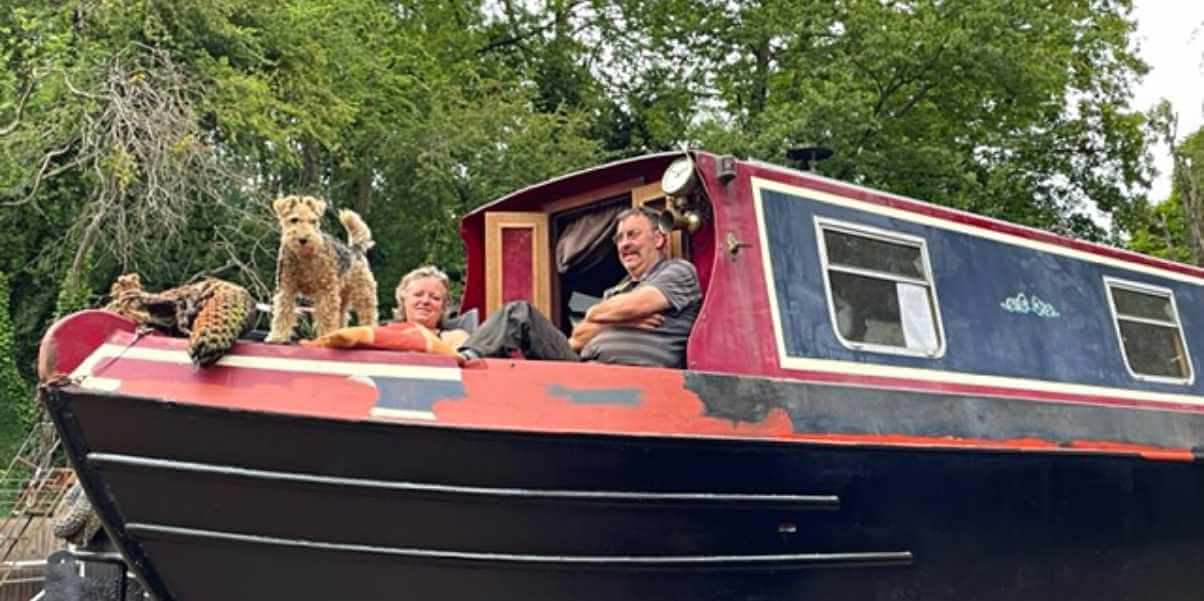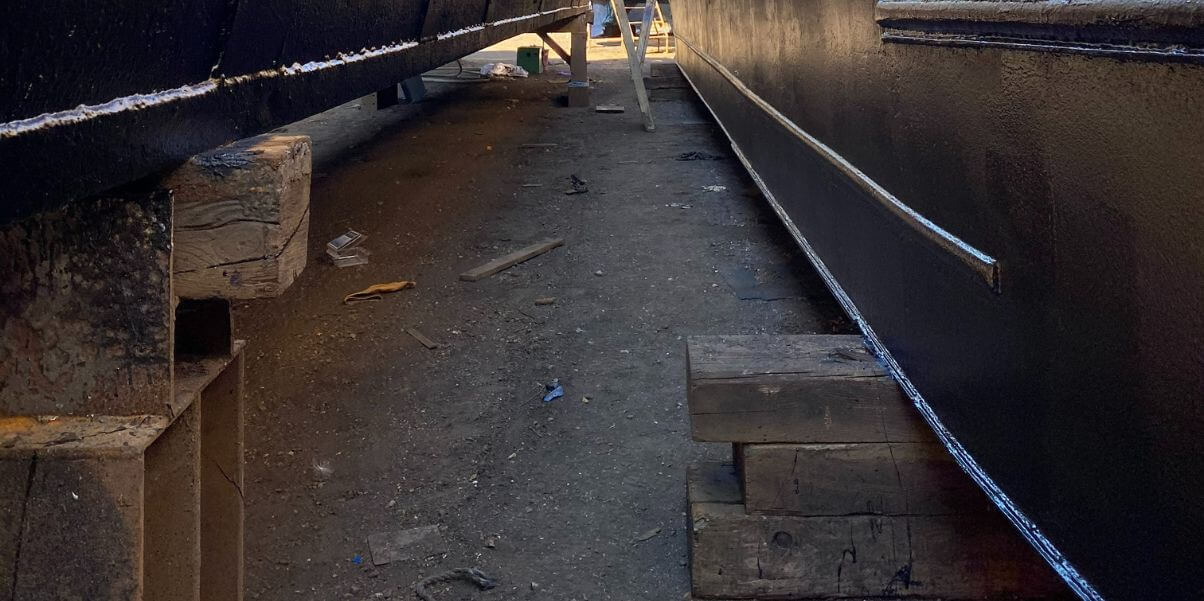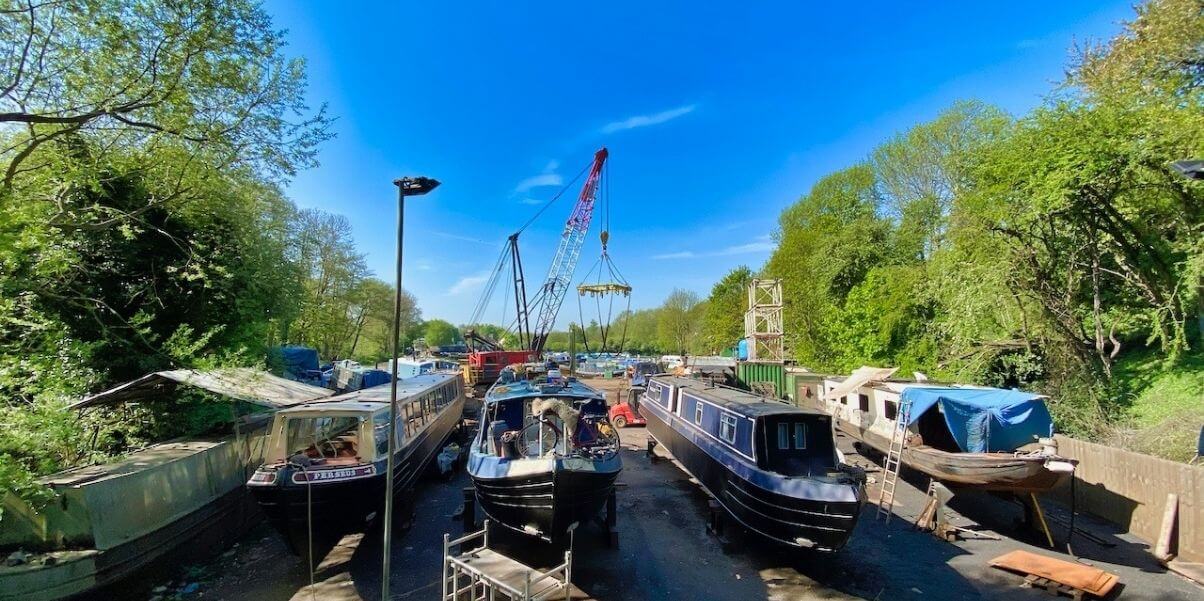 "Fantastic experience with these guys, swift and professional, will use P&S again. (June 2022)"
Oli Fisher
Cranage
The largest lifting capacity on the UK inland waterways
Hull Blacking
Two coats of SML bitumen for the
hull of your vessel
Engine Servicing
Smooth your sailing with consistent maintenance
Anodes
Cathodic protection for your canal boat
Steelwork
Fabrication, welding and overplating for your boat
Grit Blasting
Hull preparation prior to painting the base and sides
The most frequently asked questions about hardstanding are answered here, but if you would like to ask an additional question please click below
GLORIA: DO NOT USE THE TOP QUESTION - IT IS INVISIBLE
Can I live on my boat while I'm on hardstanding?
Yes you can. We ask that you respect the residents and other customers while on site but you are able to continue life normal as if you were still on water.
Can I bring a car or van?
Yes. We have very limited spaces and this needs to be confirmed before hand with P&S Marine. There are also free places to park nearby outside of the marina.
Can I bring a dog?
Yes of course, but you are responsible for your dog and they must be on a lead at all times. Please ensure you pick up after Fido too.
Are there showers?
No. We currently do not have showers on our site but you can use your own boat facilities and throw the grey water overboard into the yard.
Once on hardstanding can I be moved during my stay?
No. Any additional movement of your boat would incur a cranage charge. Once you are on hardstanding this is the position you will stay in, until you are back in the water.
What amenities are close by?
There is a large supermarket, small shops, restaurants, Watford Station (Metropolitan line) and Cassiobury Park within a short walk from the marina. Watford Town Centre is 2 miles away with a large shopping Mall. There are good transport and road links into and out of London from the area.