2 coats of SML bitumen applied to the hull of your vessel
Do-It-Yourself
Get hands-on and apply the coats of paint yourself
P&S Service
Let us take the strain and do the blacking for you
Hull Blacking
Maintaining your boat's hull is vital to avoid expensive steel damage and blacking with 2 coats of SML Bitumen every 2 to 3 years provides excellent protection for the bottom of your boat.
Your boat is lifted and we pressure-wash the hull to remove any underwater growth. This leaves a good clean surface to paint on.
Hull blacking with SML Bitumen can get very sticky and our team are experts in getting a fantastic finish. Alternatively, you may choose to do the Blacking yourself in which case we can supply the paint, or you can supply your own paint and roller (use of our handles and trays is free of charge).
P&S Marine Blacking Service:
Do the painting yourself
Let P&S paint it for you
2 coats of SML Bitumen (not Epoxy)
All painting equipment available on site
You can stay on board your boat while we work, or leave the boat and return to the yard when your job is complete.
Note: Please be aware that during the summer staying longer than your allotted week is usually impossible. We are just too busy. Any substantial works found to be necessary, may need another visit.
Blacking prices per foot (p/f) for whole hull (inc VAT)
£22.20 p/f Narrow boat Band 1
£27.00 p/f Wide beam Band 2
£33.00 p/f Wide beam Band 3
£40.56 p/f Wide beam Band 4
Pressure washing per foot (p/f) (inc VAT)
£ 2.50 p/f Narrow boat
£ 2.80 p/f Wide beam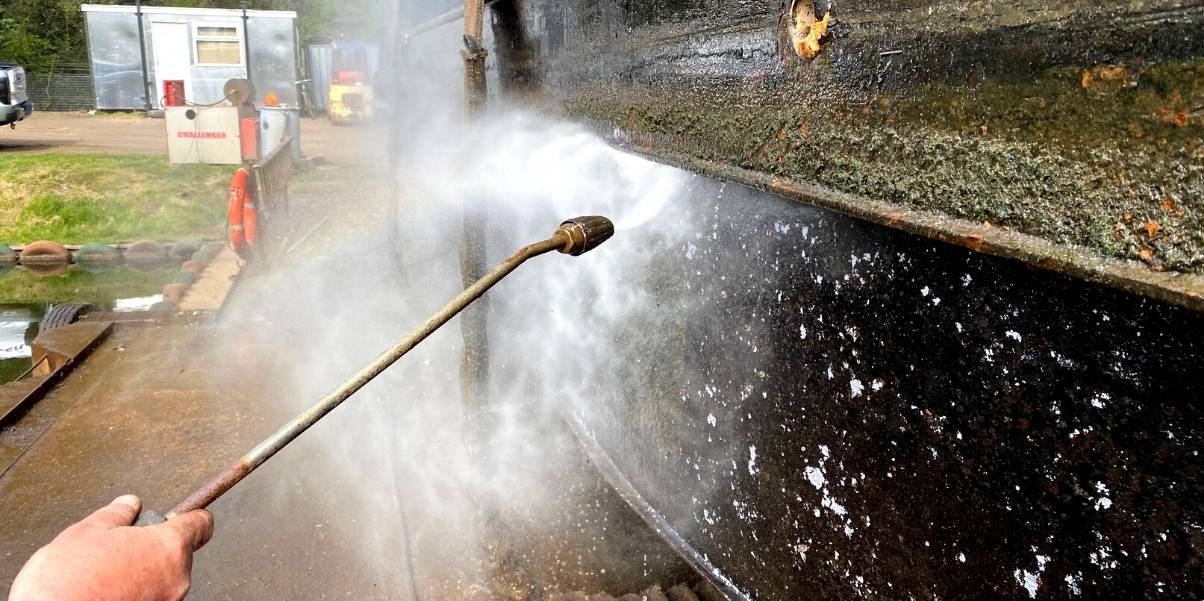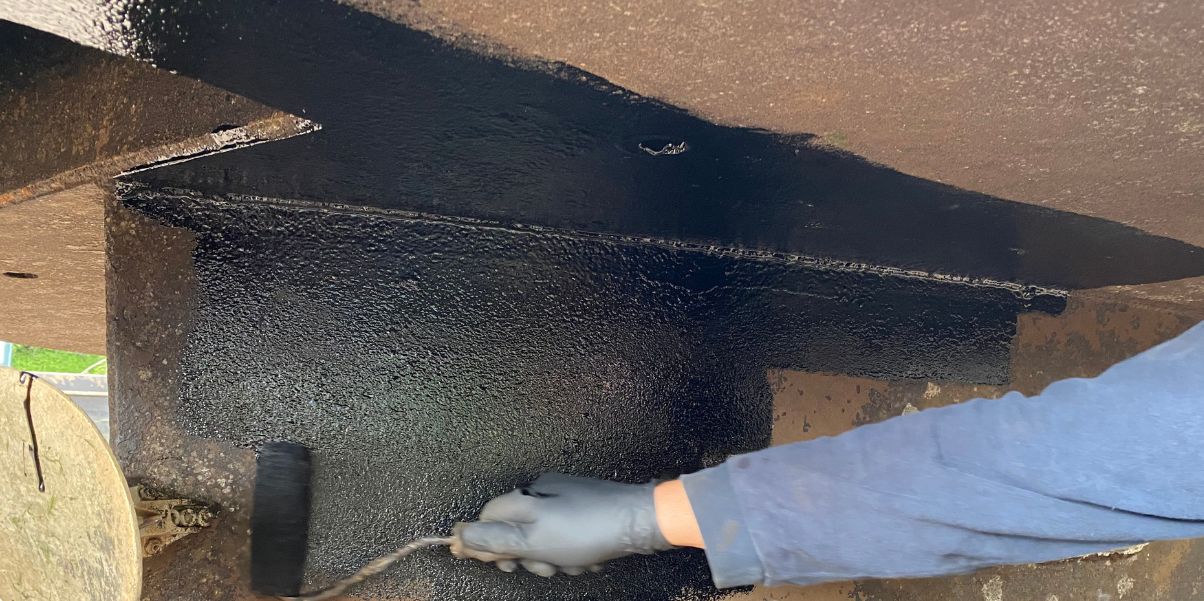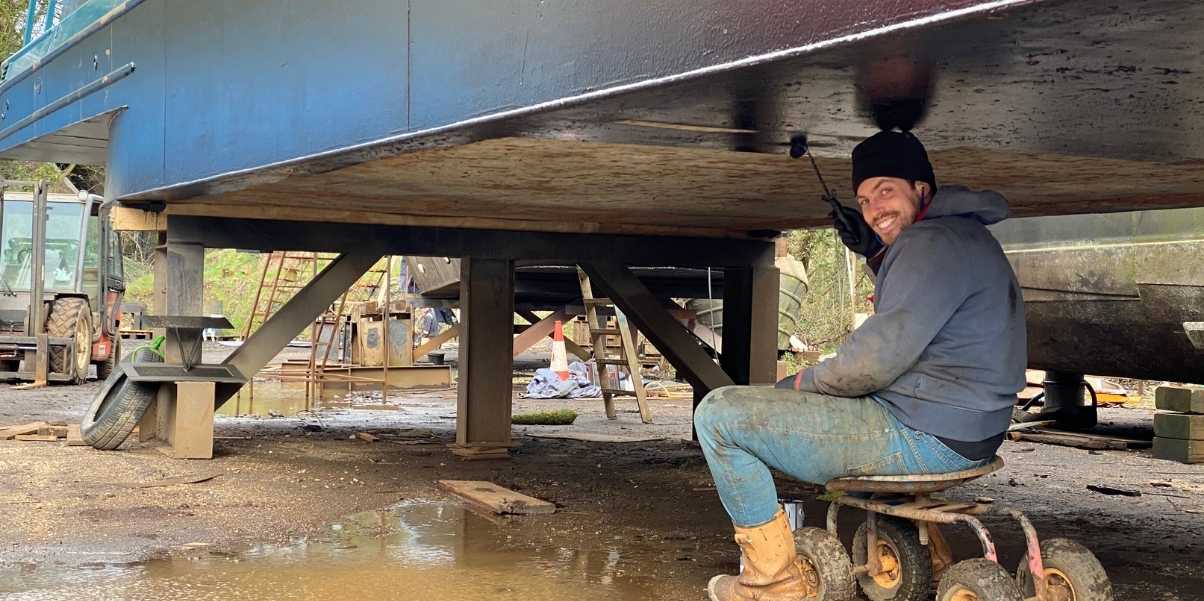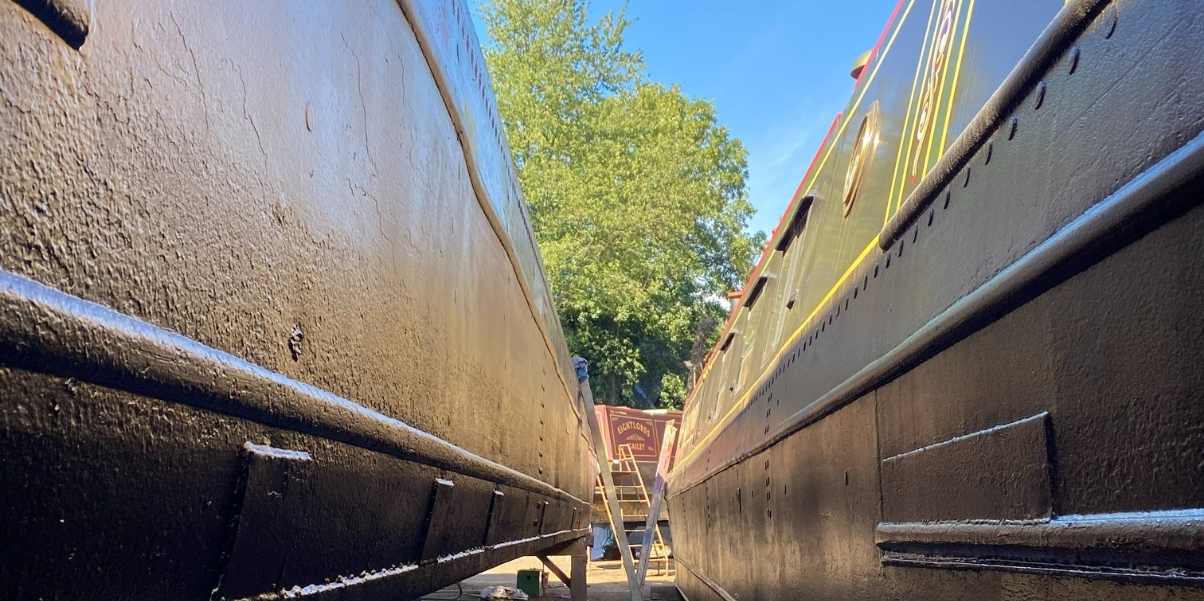 The Process
We highly recommend blacking the whole hull, the base is just as important as the sides. Of course, you may choose to black the sides (to the rubbing strakes) or base on separate occasions. Just remember you will need to come out of the water again sooner, adding the price of another lift to your maintenance costs.
The pressure washer is extremely powerful (3000 psi) so only operated by P&S Marine staff. If you are blacking your hull yourself we must carry out the pressure wash for you.
Pressure washing may reveal damage or small pits that need addressing. These need to be dealt with on an individual basis. In less busy times of the year we may be able to address unexpected issues while the boat is on land.
SML Bitumen vs Epoxy
Most of our customers prefer blacking with Bitumen every 2-3 years so we have listened to them. It keeps the cost down, while achieving the same level of protection as the Epoxy over the course of 2 to 3 years.
The cost of supplying and applying the Epoxy is very expensive. Although the coating is longer lasting (up to 6 years), you will still need to take your boat out of the water for maintenance during that time. This adds a further cost and lift. You are also welcome to source your own Epoxy, but we can only advise not assist in the application. We can supply and apply primer at an additional charge.
We do however still offer a grit blast service. There are very limited slots, so please see the grit blast page for further information.
Cranage
The largest lifting capacity on the UK inland waterways
Hardstanding
Dry docking for you and your boat, and free WiFi
Engine Servicing
Smooth your sailing with consistent maintenance
Anodes
Cathodic protection for your canal boat
Steelwork
Fabrication, welding and overplating for your boat
Grit Blasting
Hull preparation prior to painting the base and sides
"Ralph and the team are superb. My boat was out and blacked in less than a week. Small amounts of pitting was fixed and sealed in no time. The yard is always busy with lots of boaters choosing this yard above many others. I will always be bringing my boat back here. No matter how far away I am"
May 2022
Jamie McKinnon
The most frequently asked questions about blacking are answered here, but if you would like to ask an additional question please click below
GLORIA: DO NOT USE THE TOP QUESTION - IT IS INVISIBLE
Do you do 2 pack Epoxy?
No. We have decided not to offer Epoxy coatings. Please read above for more information.
Can I apply bitumen over a hull that already has Epoxy?
Yes. Applying 2 coats of bitumen over your old Epoxy is fine. Covering bitumen with Epoxy is not.
If I paint myself will anyone assist me?
No. The DIY option is just that, you do it yourself, but we are here to give advice if you need it. Don't worry we won't leave you hanging we are happy to give you tips to help you complete the job on time.
Can I use the P&S Marine pressure washer?
No. Our pressure washer is extremely powerful, so for safety and insurance reasons we only allow our staff to operate it. If you are DIY blacking we will pressure wash your hull for you. This is charged per foot £2.50 for narrow beams and £2.80 for wide beams.
Do I need to order paint from you before I arrive?
No. We always have plenty of SML paint in stock. Tins are 5 liters each and we advice you as to how many tins you will require using the approximate square footage of your boat. Once a tin is open it must be paid for. If you prefer to bring your own paint with you, that's fine, too. Painting equipment such as rollers are available to buy but trays and handles are available free of charge.