Together We Focus On Your Boat
About P&S Marine
Us, our Commitment & Philosophy
Meet The Team
Experience and Qualifications
About Us
Ralph used to operate his business under the name 'RK Marine' as a mobile engineer and this led to him gaining a huge amount of knowledge and experience regarding everything to do with canal boats.
In 2015 he teamed up with John's son Tom to become the owner of P&S Marine. He continued surveying until 2017 but decided to concentrate on improving the cranage and maintenance side of the business.
With an excellent reputation for great service and a professional approach, P&S Marine has become widely known as the friendly and welcoming place to maintain your boat.
Our next chapter is just beginning, with Jack Penty replacing Tom as the new co-owner alongside Ralph. With the best team supporting, we are all looking forward to assisting the boating community for many years to come.
Commitment
We will always offer a solution. Whether the problem seems big or small we are here to advise.
Philosophy
We will be open and honest about what you require, even if it means we turn away your work. Sometimes the cost to you, outweighs the benefit.
Mission
To go above and beyond in order to complete tasks in the most efficient and cost effective way. It is paramount that all our customers have the best experience possible.
Ralph
Owner and Director. Ralph's knowledge of marine engines and associated systems makes him an expert in the field. He has developed a hugely trustworthy reputation in the canal boat maintenance trade. Always willing to advise and support the boating community, is the reason people return again and again to P&S Marine.
He loves spending time with his grandsons and princess granddaughter. He has seen and heard Frozen many, many times. He loves motorbikes and his favourite place to holiday is Greece.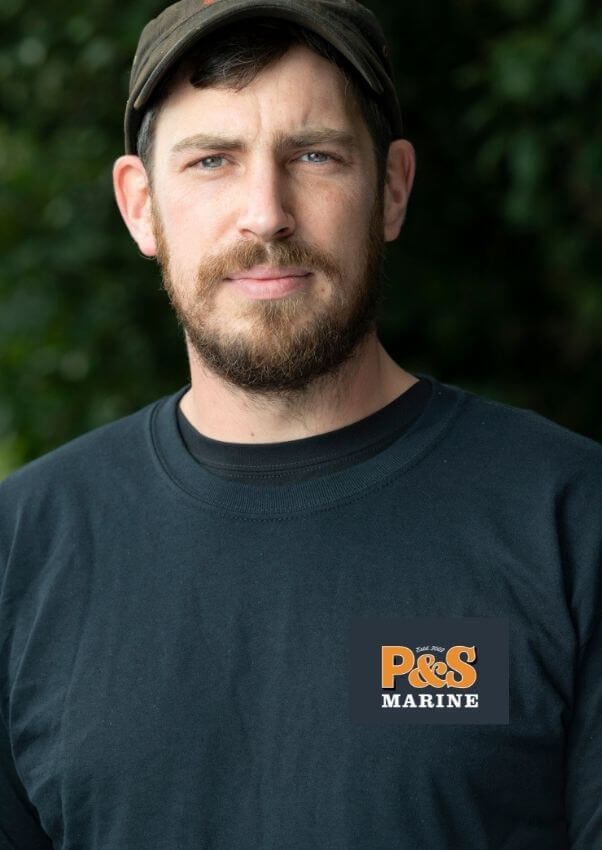 Jack
Owner and Director. During Jacks 4 years at P&S Marine, he has become an integral part in coordinating the yard's cranage operation. He is our expert crane operator and he makes the skill of lifting a boat of any size look effortless. Alongside Ralph he is looking to expand the business over the next few years.
Jack loves relaxing at home and spending quality time with his family. He enjoys watching and playing football, when he isn't doing real life. He admits to not being a morning person.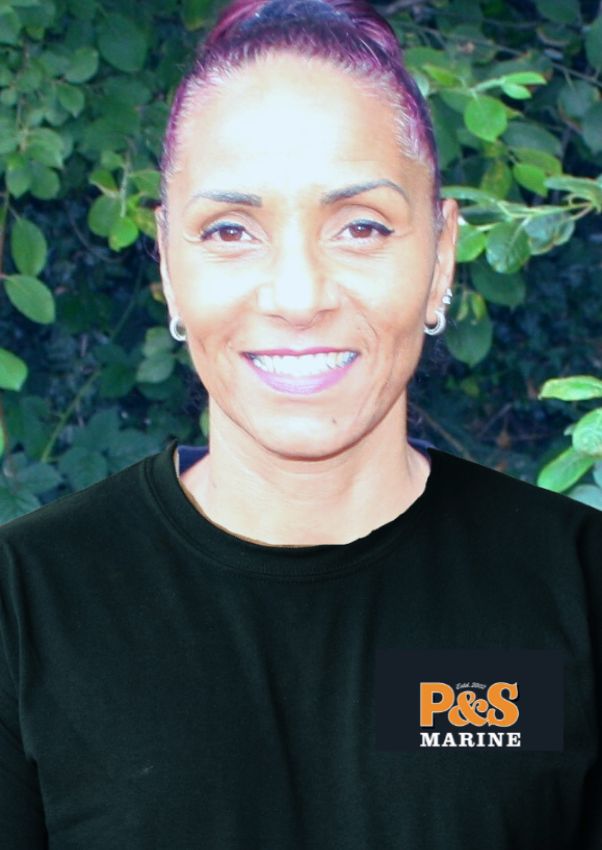 Gloria
Office Manager. Gloria joined the team in March 2022. With over 30 years experience in customer service and admin management. She provides the very best support, ensuring you have a first class customer experience with P&S Marine.
Gloria has always enjoyed keeping fit so 11 years ago she became a Zumba instructor and later a yoga and barre Pilates instructor with her own private studio in Cambridgeshire. She's also been on a fair few TV gameshows in her time.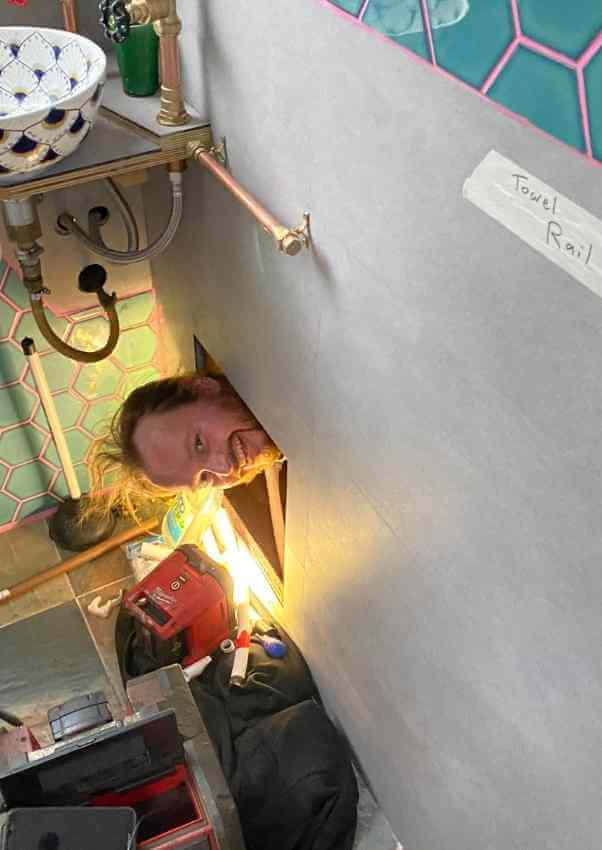 Dave
Plumber. Dave can be found quietly taking care of your plumbing requirements. He has been at P&S Marine for 5 years. After bringing his own boat to Ralph to be lifted and loving the friendly relaxed atmosphere, he decided to join the team. He is now an all round support in the yard.
Dave has lived on his own boat for 7 years and is a resident here at the marina. He loves classic cars, including his old Mini and is building a camper van.
He enjoys mountain biking and hopes to travel once the van is complete.
Räff
Welder. Räff has been a part of the P&S Marine team for just over 1 year. He never intended to be a welder but once he started he knew this was the trade for him. He has now been welding for 12 years. Alongside Ralph he takes care of your patches, repairs, fabrications and general welding.
He enjoys spending time with family and friends, especially picnics and relaxing on the common. He loves motorbikes, the louder the better and his favourite food is Chicken Chow Mein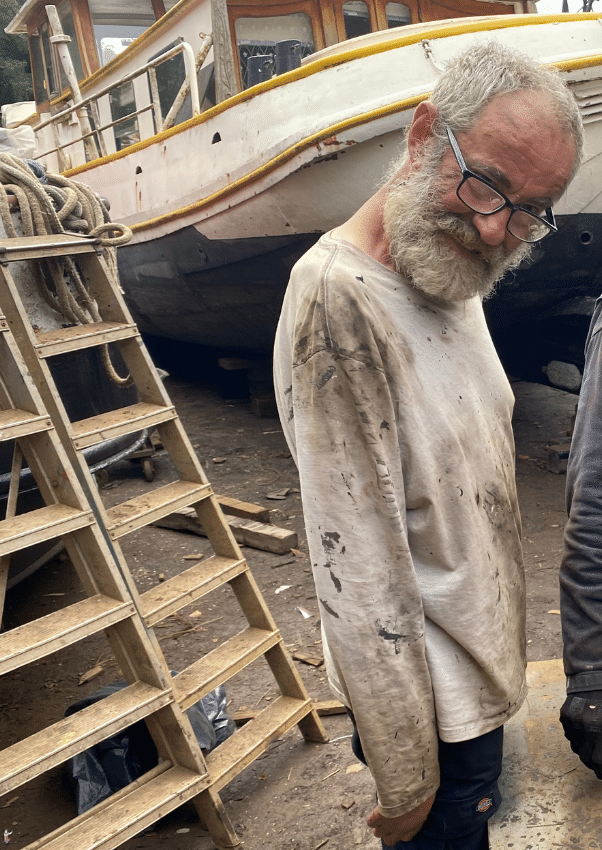 Rat
With over 40 years in the motor trade Rat joined P&S Marine 2 years ago after his job became obsolete during the Covid lockdowns. A master when it comes to mechanics, he knows engines inside out. He is also a skilled tool maker and has his own historic boat. Alongside Ralph he's our skillful engine installer.
He is an avid lover of motorbikes and is a pit crew mechanic for a drag bike team. He can often be found at Santa Pod with a wrench or an organic grass-fed burger in hand.
"The team at P&S Marine Services are a very good crew, and Mr Kitts has much to be proud of the company. I have had some bits of welding done and I couldn't be happier by there friendly service and professional attitude, all in all a very successful experience by all involved, I would always recommend them, kind thanks to you all (May 2022)"
Tom Jacobs